Resource Efficiency Fund (REF) – Saving Energy, Water and Waste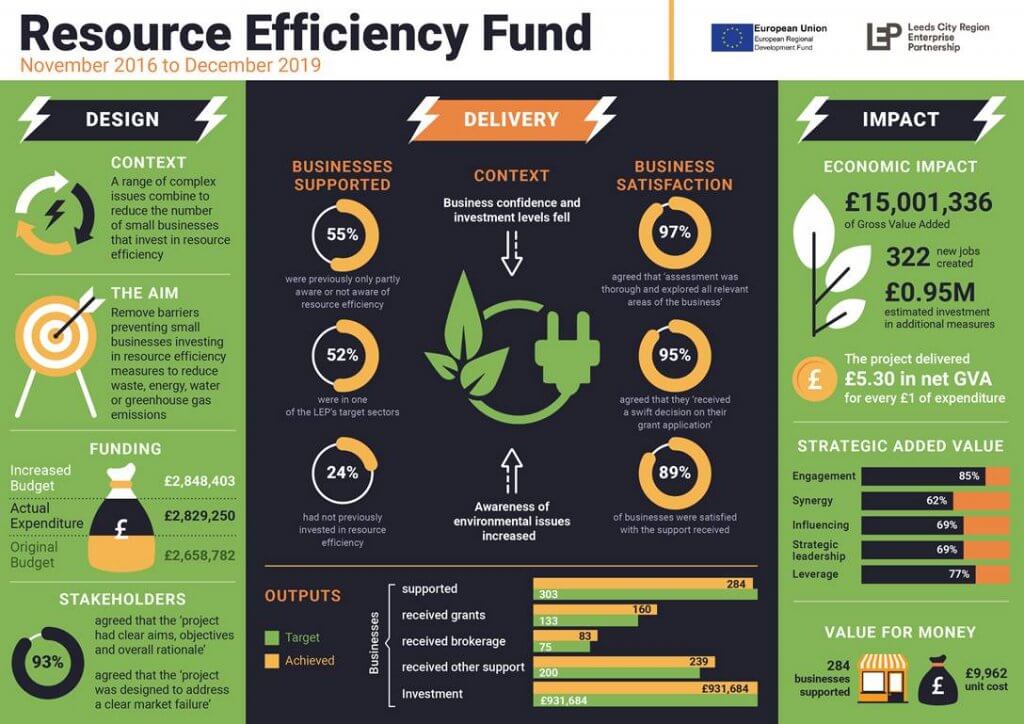 Environmental Strategies Ltd (ESL) are one of three consultancies that successfully delivered a three-year European Regional Development Fund (ERDF) project with West Yorkshire Combined Authority (WYCA) to support local SMEs be more resource efficient.
Our role was:
To identify and supply technical assessments of energy, waste and water saving opportunities for the SMEs, including potential plant, product and process improvements.
The output of the assessments was a clear bespoke action plan for the SME, including the likely cost benefits, payback periods for the investments, the likely carbon equivalent savings, and the funding options available for each recommendation. The companies varied from heavy industry, food, emerging tech, light industrial, textiles and warehousing.
Results:
133 SMEs provided with no and low-cost opportunities that payback in less than 1 year and totalled savings of:
– 5,375,070 kWh energy
– 11,000m³ water & effluent
– 1580 tonnes CO2e
– £521,000 year on year
Over 40 SMEs visited by ESL went on to receive grant funding to implement their chosen resource efficiency investment project.
Utilised innovative ways to recover wasted heat from plant and equipment to heat occupied space or process water.
Explored wood burners and small-scale energy from waste options with those SMEs producing wood as a waste stream.
Identified other local companies that could benefit from an SME's waste stream e.g. unusable dough and flour from the bakery as a useful resource in local allotments and community growing patches.
ESL have a strong sustainability and environmental knowledge base and they have demonstrated this in the support they have provided to a wide variety of SMEs across a broad range of sectors. These range from heavy duty manufacturing and engineering to precision scientific and office-based businesses. Their strong knowledge base is evidenced through the feedback we receive from clients who advise that ESL take time to understand their requirements and tailor the service they provide to ensure they deliver relevant and business focussed recommendations. I was particularly impressed with a recommendation given to one client for a heat recovery project, utilising waste heat from vacuum pumps and compressors to heat some adjacent offices and laboratory spaces, significantly reducing electricity heating and cooling costs. Through this recommendation, ESL used their detailed knowledge of the subject matter and specific specification from the client to put forward a cost-effective solution that matched the client's needs.
Mark Hoult, Resource Efficiency Manager, West Yorkshire Combined Authority.